1st Status Meeting of the large "Lightweight Forging" Research Network on 12 May 2015 in Düsseldorf
---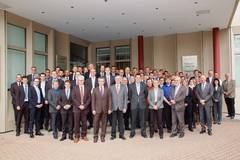 On 12.05.2015, over 70 representatives from industry and science came together at the Stahl-Zentrum, Düsseldorf, to find out more about the content of the AiF (the German Federation of Industrial Research Associations) Research Network entitled "Lightweight Forging – Innovation Network for Technological Progress in Part, Process and Material Design for Forged Parts in Automotive Technology," which commenced on 01.05.2015 and has a duration of three years. The event also provided the opportunity to discuss the planned activities of the project.
You can find further information here.
---
Lightweight Forging
Keep up to speed.
Find out more about the potential of forged parts.
Tell your business partners about our initiative!